Arsenal
travelled to Serbia today to match up against Partizan Belgrade on the second matchday of the 2010 UEFA Champions League.
Arsenal led Group H after demolishing Braga 6-0 on the inaugural day of fixtures while Belgrade lost 1-0 to Shaktar Donestk. The Gunners travelled without Robin van Persie, Cesc Fabregas, or Manuel Almunia, but manager Arsene Wenger could easily afford wholesale changes with such a robust squad of attacking talent.
Each side pinged the ball around in the beginning, getting a feel for what promised to be a physical match in the loud, intimidating atmosphere of the FK Partizan Stadium.
Completely under the kosh, Arsensal broke on the counter after 15 minutes through Andrei Arshavin. He played through to Wilshire who brilliantly back-heeled back to the little Russian to strike home from eight yards, quieting the raucous crowd.
Arsenal led 1-0
against the run of play.
On 26 minutes, the Londoners broke through with clinical triangular passing only for Arshavin to over-elaborate. They broke again from the half-clearance but
Arshavin
's close-range chip was blocked. The Russian sparkplug fed Rosicky through a moment later as the Gunners unloaded their clip; Belgrade's keeper did well, though.
On 32 minutes, an arbitrary handball by Denilson gifted Belgrade the chance to equalize from the spot. Cléo obliged, slotting calmly to the right..
Belgrade 1, Arsenal 1.
The equalizer buoyed Belgrade enough to see the half out without any more clear-cut chances for either side.
On the opposite side of the break, after ten minutes, Chamakh was sent through down the middle and was felled by Jovanovic inside the box. The Belgrade defender was shown red; Arshavin banged the penalty, with power instead of accuracy, and Stojkovic saved heroically.
Despite being up a man, Arsenal were unable to consistently pressure the Serbian side. However, on 70 minutes, Rosicky crossed to Chamakh whose header was athletically saved by Stojkovic onto the bar. The Moroccan turned in the rebound, giving
Arsenal a 2-1 lead
.
Arsenal utilized their man advantage, playing keep-away for the next ten minutes. After winning a corner, substitute Samir Nasri curled in a sweet cross for Squillaci to rise to.
Belgrade 1, Arsenal 3
.
Immediately following the goal, Belgrade penetrated Arsenal's penalty box and earned a penalty via a Kieron Gibbs tackle. The head referee called it straightaway without help from any linesman. Fabianski saved the Cléo's penalty, diving left and low.
The Gunners pressured casually until the whistle, and left Belgrade as 3-1 winners and Group H leaders on goals, virtually assured of qualification into the knockout stages.
Player Ratings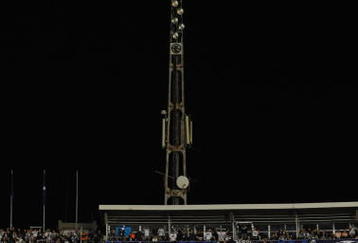 Not all the lights were on in Belgrade
Michael Regan/Getty Images
Partizan Belgrade
Stojkovic
(
8.5
) The best player on his side, despite ultimately letting in three goals. Ridiculous save after ridiculous save was a hallmark of his game today.
Krstajic (
6
) Masked captain led by example but couldn't keep up with Arsenal's passing, mostly.
Jovanovic (
4
) Being sent off enables me to give him a four without having to justify anything else.
Lazevski (
5.5
) Did well in the first half, but did little in the second.
Stevanovic (
5
) Most of Arsenal's joy was on the left side, where he was defending.
Petrovic (
6
) Had some joy in the first 15 minutes of the match, but only just.
Medo (
6.5
) Competed in the center with strength and flare until inevitably overrun by the more trained side.
Ilic (
4.5
) Anonymous, perhaps because of my own ignorance, but, what am I gonna do?
Tomic (
5
) Subbed early after generally ineffectual performance.
Cléo (
7
) Belgrade's newest signing looks like a bargain after scoring eight times in qualifying and netting again today.
Boya (
6
) Tracked back nicely on some occasions, otherwise did his best to contain an uncontainable Arsenal side.
Arsenal
Fabianski (
8
) Fabianski had a great game at a great time for his career. If Almunia continues to blunder, you may expect the Polish keeper to earn more time between the sticks.
Djourou (
5.5
) Some needless tackles, but otherwise did what little was required from him.
Squillaci (
8
) Headed strongly for Arsenal's important third goal. The summer signing was also the most assured member of his backline today. Central defenders are a real commodity in European football, and on evidence it seems Wenger made another intelligent signing.
Gibbs (
5.5
) Contributed on both sides of the ball, but conceded a silly penalty late.
Sagna (
6
) Belgrade offered little in attack. All the Frenchman had to do was pass sideways and track back occasionally.
Song (
6
) Marshaled the midfield athletically. Passing was askew at times. Good, positive drive.
Denilson (
7
) Needed to make a fantastic tackle early, and did. Partnered Song nicely to provide Arsenal's bevy of attacking talent.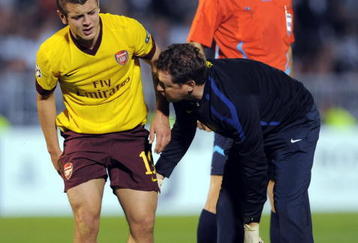 Wilshire was on the verge of tears at one point
Michael Regan/Getty Images
Wilshire (
7
) Fans of the London club prize this young man. He's deserved their adoration and hope more on prior performances than that today, but to be fair, he was hacked down at every turn. Nice assist on the first goal.
Arshavin (
7
) Had several chances in an outstanding first half. Over-elaborate at times, though, and faded in the second. Took the dumb-fire approach on the penalty and earned the save from the keeper.
Rosicky (
6.5
) Saw plenty of the ball but didn't do anything totally remarkable with it.
Chamakh (
7.5
) Rose to score a crucial second goal, one of many nicely won headers. Seemed too eager to go to ground, which is not something new for the former Bordeaux man.