It's far too early in the Champions League season to be having must-win games, just as it's probably far too early in an editorial to use a cliche like "must-win."
Forgive me, but don't forgive
Manchester United
. The club's plight is highly relative: they're merely not a veritable top three side in the world. It's not enough reason for fans to go out and commit seppuku. But integrity and altruism from the owners, more courageous decisions from the manager, and simply better performances from the players would all benefit the product on the field.
And that's just the place they'll meet Valencia on Wednesday in the second matchday of the Champions League group stage.
Dearth of wingers, yet youth displaced
With Ryan Giggs out with a calf strain, United manager Sir Alex Ferguson is forced to shoehorn in Park Ji-Sung—admittedly a player he'd probably wrongly use anyway—going away to their toughest competition in the group, La Liga leaders Valencia.
Park has been arguably United's worst player so far this year, with Jonny Evans and Wayne Rooney both competing for the indistinction. Ferguson could afford to play Park in the past in such ties, at least when Ronaldo was around to release counterattacks and gloss over the Korean's attacking shortcomings.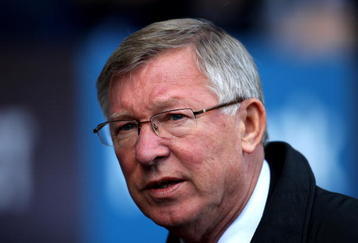 Fergie is not faultless
Alex Livesey/Getty Images
But now, it's not as if the Scotish gaffer has many options: or does he? God forbid anyone suggest something radical, like playing Patrice Evra at left wing with a da Silva behind, or giving Gabriel Obertan or Javier Hernandez berth along one of the touchlines.
Antonio Valencia's injury—hell, even Cristiano Ronaldo's departure in 2009—will continue to reverberate up and down the peaks and valleys of this season without the right cover continually being purchased or selected.
United's youth must grow by fire, and fast, to compete throughout the long season, something that won't happen if they only get 15 minutes every other game.
Evans fails as defense wobbles
Having only mustered one point at home to semi-minnows Rangers, United definitely need at least one point come Wednesday.
Unfortunately, their usually Jupiter-solid defense is more likely to implode into a black hole than gravitationally deflect projectiles away from it's figurative blue marble.
Evans has been stretched further than that analogy throughout most of this season, and each time Vidic orbits away from the back line, United's inner atmosphere is inevitably penetrated.
He's been so bad, frankly, that I had to use the analogy again. That bad. This is the same player who displaced current European treble winner and World Cup winner Gerard Pique who, to be fair, at times looked just as wonky in his United tenure.
There's no reason to assume ultimate failure for Evans, but as Rio Ferdinand malingers in perpetuity on the sidelines, we might assume ultimate failure for United this season.
And not just for one reason; not just for Evans' current malform (were it to continue). United's other failings are well documented. They are a club in transition since they cashed in and sold Cristiano Ronaldo, led by an aging manager with a proclivity—or necessity—to rely on aging players, with an overrated talisman and without a natural on-field leader.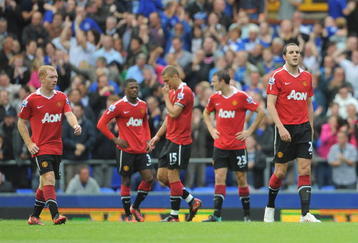 United fans would like to see this image less this year
Michael Regan/Getty Images
Doesn't mean they can't barely eek by
Liverpool
at home, or deserve to; but it should lead—on probability at least—to a tough, drawn-out season, inevitably ending in defeat to clearly more complete and robust squads.
Valencia sales not enough to assure hope
A point away in Spain would be a positive result, despite the Spanish leaders being presumably weaker this year. In place of their two best players, Valencia now have over £70 million, having sold David Villa to Barcelona and David Silva to
Manchester City
at robust profits.
On travels this year, though, goals have passed through United's defense like neutrinos, penetrating their back line wherever Vidic wasn't. Through six games this season, the Mancs have conceded nine goals, seven away from home. In their double-winning 2008-09 term, they conceded 24 overall, and just 10 away from Old Trafford.
That'll have to change to get anything out of a game that should be viewed, at least by the United team, as a "must-win," lest the cliche becomes more and more applicable to their match previews as the European season unfolds.
At the very least, fans of red or neutral orientation may enjoy the glorious, final bow from an in-form Scholes, and the majesty of Berbatov on song; two conditions less likely to continue throughout as United fall short, if not only just.
Forecast
As abysmal as Wayne Rooney has been lately, and considering their manager's penchant for the 4-5-1 in away European ties, the best-case scenario here probably involves Berbatov up front, alone. Rooney needs the rest, being knocked, tired, off-form, and stressed, and quite frankly, shouldn't even travel. (Reports state that Rooney is, in fact, not traveling.)
United's defense has been so porous, they could use an extra midfielder holding in front. The inclusion of Ji-Sung, in theory at least, contributes to more defending, but scoring should pose a problem. Expect a low-scoring game, perhaps even a nil-nil, as United continue to be competitive this year, if only just.