With such a title, it'll be assumed I'm a self-hating mofo, some reactionary noob. I'll be accused of a "doom and gloom" paradigm, and be further patronized with sarcastic, "sky is falling"-type rhetoric.
But I am certain when Antonio Valencia's left ankle dislocated and broke,
Manchester United
lost one of the two players they absolutely could not afford to, at least on last year's evidence.
Only Darren Fletcher was more individually important than Valencia last term. Even Wayne Rooney often scored despite his form, not because of it; and often as a result of the Ecuadorian's crossing.
Yeah. Without Valencia, and without real cover, United are basically screwed this year.
Not only will Nani now feature even more often, but United manager Sir Alex Ferguson will now have to play Ji-Sung Park, or more likely, Ryan Giggs, match-in and match-out throughout the year.
And it should be a relatively dismal one. Park has shown no semblance of good touch since the World Cup, and Giggs, though undoubtedly effective in patches, has been relied upon far too long by his Scottish gaffer.
Both Giggs and Scholes have a place in the side, as they have for almost two decades. But over the last few seasons, Ferguson has shown a disinclination to replace either, even with younger talent. Quite frankly no one else on United's roster is a natural left-winger or a natural attacking central midfielder.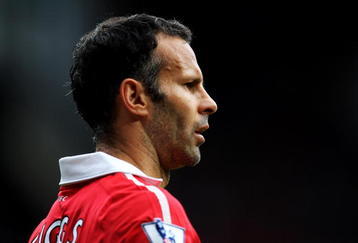 Giggs should be a luxury, not a necessity
Alex Livesey/Getty Images
Whatever Zoran Tosic did to Sir Alex, he was never forgiven. Nor should Sir Alex be granted any pardon for transferring the promising Serb without a legitimate chance in Manchester.
Gabriel Obertan looked equally dynamic and atrocious throughout the minor opportunities he was given last year. He could fill Valencia's boots on the right side, but without the pace, delivery, strength, or maturity. Not yet, at least.
Bebe—a player not a single United fan knew of a month ago—played with potential today for the reserves in a loss to
Aston Villa
. Could the 20-year-old provide relief on the flank? Sure. Should he be expected to already? Definitely not.
Yes, it's all very sad. Fergie will invariably opt to move Nani to the right wing and employ Giggs on the left. Unfortunately, at this stage in his career, the Welshman is much better in the middle than he is on the wing, and even then mainly only in a 4-5-1 (4-3-3), which has been proven as an ineffective formation for United over the last several years.
Either that, or United fans will be treated to watching Park play more; good, at best, and abysmally, at worst, with some of the heaviest touches in the English top flight.
In short, another season of inadequate incoming transfers, or blossoming homegrown talent, equates to the stubborn and nostalgic gaffer overusing Scholes and Giggs for another season to try and cover either his club's financial shortcomings, or his own egregious tactical blind-spots.
There's no way the shortest player on the field scores 10 headed goals again this year, and sadly, there's little chance United compete seriously in either of two major competitions come springtime.
The Red Devils are too shallow. They can only trump
Chelsea
at home, or a myriad of clubs abroad, if their best players perform out of their mind throughout the whole season—an extreme improbability that other clubs with more depth don't need to rely upon.